We offer car-hire and rental services within East Africa i.e. Kenya, Tanzania,Uganda, Rwanda and Burundi, with self-drive or chauffeur-drive options.
Our fleet is modern and well maintained.If you want an 8-seater minivan, 25-seater minibus, a Land Cruiser, an overland truck or an open-air bus, these are available at affordable rates.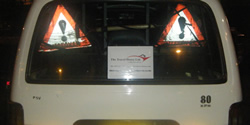 The vehicles are comprehensively insured and driven by multilingual guides; trained in defensive driving.Their familiarity with the local road networks is guaranteed.
Below are current rates,which are also subject to the duration of hire, self-drive or chauffeur-drive options,distances to be covered and other external factors.

Car Model

Group

Engine Capacity

1 - 7 Days

8 Days and above

Saloon/Sedan (Toyota NZE, Allion, Fielder, Premio)

A

1600cc, AC, PS

KSH 3,000

KSH 2,500

Safari Minibus

B

8000cc, AC,PS

KSH

13,000

KSH

12,500

Toyota Rav 4
(Wheel Drive)

C

2000cc, AC, PS

KSH 6500

KSH 6,000

Mitsubishi Pajero
(Wheel Drive)

D

2500cc, AC, PS

KSH 10,000

KSH 8,000

Prado (New Model)
(Luxury Wheel Drive)

E

3800cc, AC, PS

KSH 12,000

KSH 10,000

Toyota Land Cruiser (Wheel Drive)

F

4000cc, AC, PS

KSH 14,000

KSH 12,500
Your car just won't start or still at the garage under repair?
No problem.Call us with directions and we shall ensure your timely arrival at work or meeting.