We offer reliable car-hire and rental services within East
Africa i.e. Kenya, Tanzania,Uganda, Rwanda and Burundi,
with self-drive or chauffeur-drive options.
Our fleet is modern and well maintained.If you need an
8-seater minivan, 25-seater minibus, a Land Cruiser,
an overland truck or an open-air bus. These are available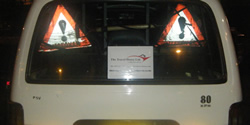 The vehicles are comprehensively
insured and driven by multilingual
guides; trained in defensive driving.
Their familiarity with the local road networks is guaranteed.
Below are current rates,which are also subject to the duration of hire,
self-drive or chauffeur-drive options, distances to be covered and other
external factors.
Saloon/Sedan (Toyota, NZE, Allion, Fielder, Premio,Vitz etc )

A

1600cc,

AC, PS

3,000

2,500

Safari Minibus

B

8000 cc,

AC, PS

13,000

12,500

Toyota Rav 4 (Wheel Drive)

C

2000 cc,

AC, PS

6,500

6,000

Mitsubishi Pajero

(Wheel Drive)

D

2500cc,

AC, PS

10,000

8,000

Prado new model
(Luxury Wheel Drive)

E

3800cc,

AC, PS

12,000

10,000

Toyota Land Cruiser

(Wheel Drive)

F

14,000

12,500
Your car just won't start or still at the garage under repair?
Call us with directions and we shall ensure your timely arrival to work or meeting.